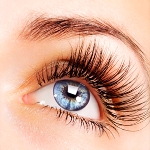 Are you a bride that's worried that your tears of joy will create unsightly raccoon eyes or mascara lines running down those rosey cheeks.  Well Eyelash Extensions are the perfect way to ensure that makeup mishaps don't happen.   You want breathtaking, long, luscious lashes that are guaranteed photo ready at any moment. So how do you achieve the perfect set of lashes for your wedding?  Consult with a professional, like "Eye-Envy"  ~  Lash Extensions by Makeup Artistry by Tish, who is a certified Lash stylist, who can deliver those quality perfect lashes when it counts the most.  A consultation should be arranged a week before to find a style that's suitable for your look.  Not only will your Eyelash Extensions look phenomenal at your wedding, but will extend into your honeymoon. When you wake you will instantly have a well-rested, wide-eyed appearance. So you can enjoy the pool and still look like you have mascara on! Eyelash extensions are indeed the hot new rage and because they look so natural no one will know they are not yours!  They are worn by famous celebrities like Beyonce, Nicole Kidman, Star Jones, Paris Hilton, Lindsay Lohan, Gwen Stefani, Lucy Liu, Naomi Campbell and Liz Hurley to name a few. But you don't have to be a celebrity to wear them,  because women everywhere are catching on and becoming Lash Addicted!
What are Lash Extensions
The extensions are single strands of synthetic eyelashes that are curved to replicate a natural eyelash.  They are semi-permanent and applied one lash at a time onto your existing natural eyelashes. They provide length and thickness to your own lashes and are available in varying lengths and thickness. There is no need for mascara even though a water based mascara is fine to use.
How long will Lash Extensions Last?
With proper care and touchup visits they can last a long time. Normally a person's natural eyelash falls out every 60 – 90 days and a new lash immediately grows in. Therefore, it is necessary to get touch-ups to fill in the fallen lashes. About every 2 to 3 weeks is recommended, however, this will vary from person to person. Your natural lash cycle as well as how you take care of your lashes will affect how long they last.
Will Lash Extensions damage my natural lashes
No they will not when applied correctly by a professional lash stylist.  The bonding agent is waterproof and this allows you to safely swim, shower and exercise.  Special care is required but overall maintenance is low. It is recommended, however, that you do not wash your eye area for about 12- 24 hours after the eyelash application.
How much does it cost?
"Eye-Envy" ~ Lash Extensions by Makeup Artistry by Tish, offers a variety of levels for every bride's budget. If you desire a hint of volume or lots of drama, prices range from $125 to $325